Events
Past Events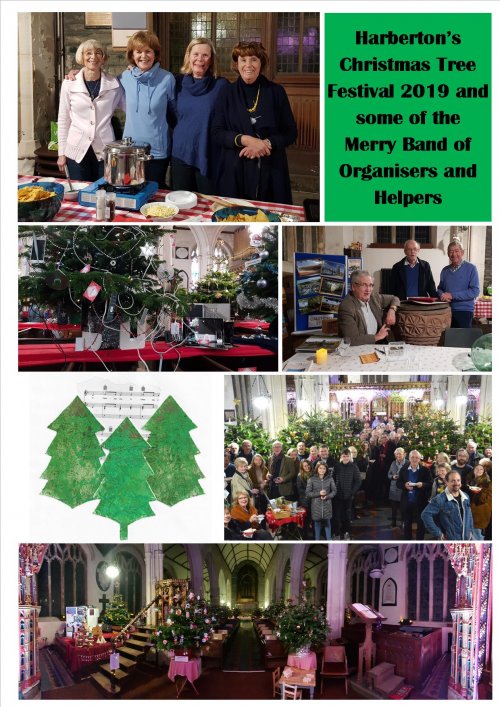 3rd St Andrews Christmas Tree Festival
A huge Thank You to everyone in the village and beyond for helping in so many different ways to make the 3rd Christmas Tree Festival such a great success!
The Event, which kicked off on Wednesday, 27 November with the Villagers' Opening Night packed with guests enjoying warming homemade chilli and wine, followed by the very busy 4-day Festival. Over the five days, an impressive £3,377 was raised. Almost a perfect match for last year's take.
Special thanks to the Team who put up (and took down) the trees; the very many men and women of the village for their delicious soups, yummy bread and amazing cakes; Carole for her cards, and Jonathan for his cards and calendars; Jackie for her chutneys and olive oil; all those who stood for hours serving tea, coffee and cakes; ESW Solutions for the spotlights; those who contributed to and participated in the Silent Auction and the Tree of Surprises and, last but not least, a special thanks to all those societies, organisations, businesses and schools who sponsored a tree.
Our special thanks to everyone who spread the word, brought family and friends and came several times to enjoy the food, meet neighbours and make new friends. A heart-warming example of real community spirit!
A new village resident kindly sent us a wonderful letter following the opening night of this year's festival - we think it expresses brilliantly what so many feel and how we all work together to make these events great for the church and its whole community. Read the letter in full on the HCCF website: https://harbertonccf.org.uk/news
Carole's Cards and Cakes held in October raised an amazing £380.00. Grateful thanks must go to Carole for all the hard work and beautiful designs - her cards really are a must. A special thanks also must go to Stanley Oldfield for his tireless coffe making (real coffee at that!) and generous cake slicing and to everyone who came along and made it such a successful event. Do go to Carole's Cards on the website where you will find the information of where and how to buy them.
Harberton's May Fair and Secret Gardens - The Church Council and HCCF raised an amazing £2500. Village friends and family were able to take a peek and be amazed at the range of stunning gardens - large and small - tucked away around our village as well as enjoying our stunning St. Andrews Church. £1659 (from the Secret Gardens and Cream Teas) will go towards the Church building repairs, and £840 (form the May Fair) towards the Church's running costs.
The Friendly Continent - Smiles, generocity, inclusivity, beauty and more smiles. Jonathan Bean has travelled on his trusty motor bikes through 23 African countries since December 1986. He took us on a whistle-stop journey... Read and see more here. This colourful evening added another £620 towards the HCCF
2nd Secret Gardens Day – July 2018. Eleven gardens around the village open to the public, with cream tea in the church. £1,000 raised for our general fund.
Rounders Day and Children's Races – also July 2018. So many determined teams, so much cake, burgers, bar, tea and chat. Raising £668.
Cello concert – May 2018. Orlando Jopling played three Bach Cello Suites in the church – a wonderful setting for glorious music. More than 100 people came and over £1,000 was raised.
In Search of Emperors (an illustrated talk) – February 2018. This brilliant talk and video show was given in the church. We weren't quite as cold as the Adventurers, including our speaker Chris Masham, were in the Antarctic watching Emperor Penguins!
Pub Quiz and Auction – January 2018. This was run by the Cricket Club for HCCF and raised over £1,400.
Show of Hands 'warm-up' concert ahead of their Cathedral Tour - September 2017. What a wow of an event - raising £1,000 for us.
1st Secret Gardens Day – July 2017. With tea, Pimms, plants and preserves for sale too, raising £1,124.