Events
Future Events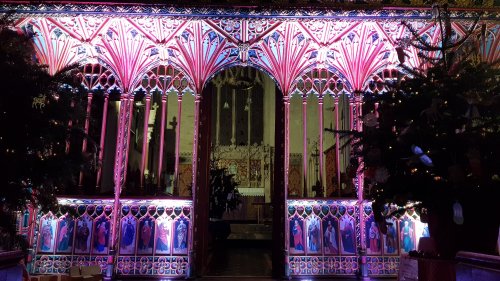 Harberton's beautiful Rood Screen lit up at last years Christmas Tree Festival.
Let there be light! - We are planning a
Festival
of
Light
starting on 19 December 2020 to bring some cheer to us all in these difficult times.
The idea is that as many houses as possible in the village put lights in your windows, with a festival theme (think Christmas, Diwali, Hannukah) or decorate a bush or tree in your garden! Do join in please!
The grand switch-on will take place on Saturday 19 December at 5pm with a (socially-distanced) gathering on the playing field.
Do join us for the start of this ray of light! More details at the end of November through the village email.
Here are just some of the events we had planned and hope to reinstate in 2021 as soon as we are able to:
Christmas Tree Festival
Antiques Road Sow
Violin Concert
Wedding Dress Festival
Dog Show (supporting Harberton Cricket Club)
Safari Supper
Abba Night
Talk series where we invite local organisations or individuals to talk about what they do, their travels, their specialised skills or areas of knowledge, for example - Dartmoor Resuce Group, Devon Air Ambulance, Gardening groups etc.
If you have any ideas of how we can continue to raise the much needed funds towards the restoration works in the Church then please do get in touch with us directly.
Maybe you have something you would like to do to raise some funds or would like to volunteer to help - whatever it may be please contact us